I just noticed that we have the character page from the original novel. The page is accessible in the novel's Alphapolis page. I think it would be nice if we have a character page and that you'd get the illustration of the characters. By the way, since the source image is small (and since my eyesight is bad), I can't really read all the kanji there, so for the moment, let me just write down their names.
I can actually edit the image to change the text with English but forgive my laziness…
First Volume's Character Page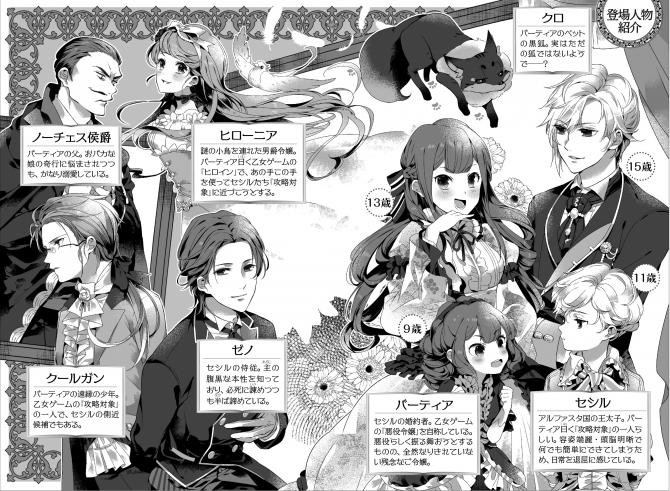 Right page:
Top of the page – Kuro
Right side of the page – Cecil, respectively in his 11 years old form and 15 years old form.
Left side of the page – Bertia, respectively in her 9 years old form and 13 years old form.
Left page:
Top left: Marquis Noches (Bertia's father)
Top right: Heronia (The heroine… as if it's not obvious)
Bottom left: Kulgan
Bottom right: Zeno
Second Volume's Character Page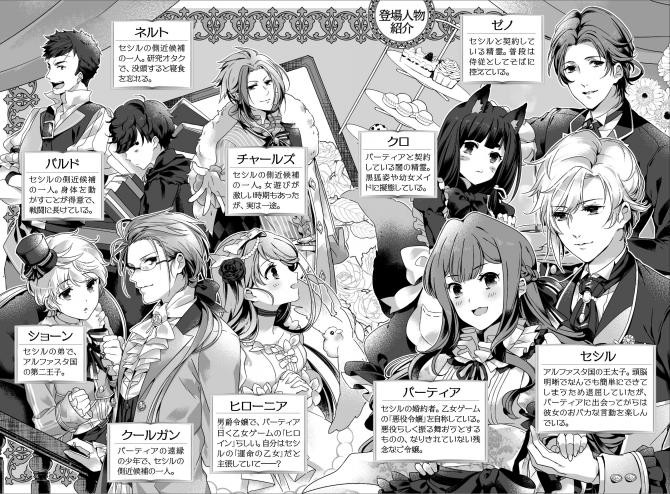 Right Page:
Top left: Zeno
Top right: Kuro
Bottom right: Cecil
Bottom left: Bertia
Left Page:
Top right: Bard
Top middle: Nert
Top left: Charles
Bottom left: Shaun
Bottom middle: Kulgan
Bottom right: Heronia