First Season : Fan Yun Fei / Han Unhi
X

Li Xue Yang / Reki Setsuyou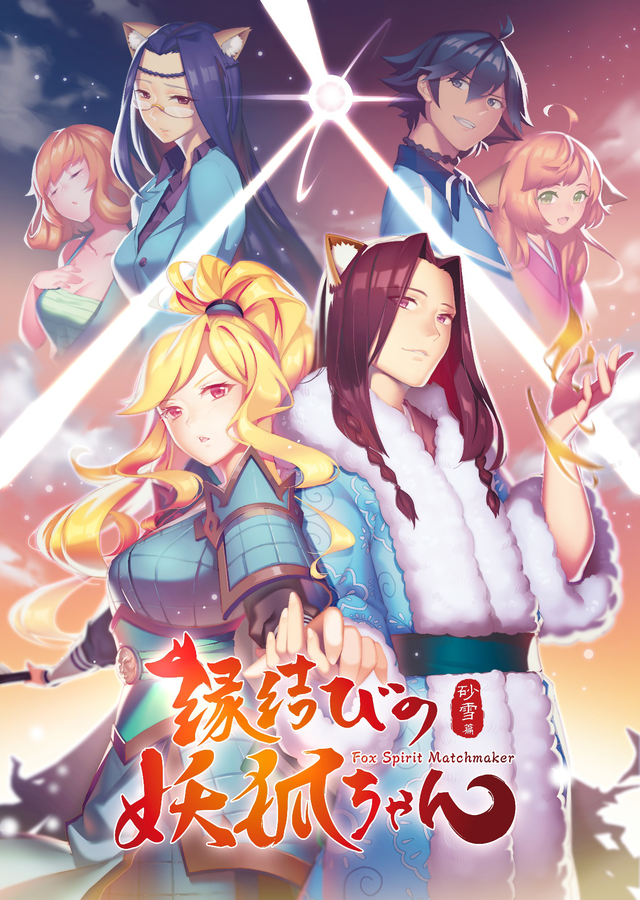 This couple marks the start of Susu and Yuechu's journey to work together! They are the very first couple whose reincarnation matchmaking is handled by Susu and Yuechu. I watched the episodes in Japanese so I'll refer the couple by their Japanese names. I think that this season focuses more on the comedy element, but boy, the flashback of their past life (especially during the past Setsuyou's death) also lands a point to me.
Before Setsuyou's death, the two made a reincarnation matchmaking vow in front of the Tree of Pledge. However, the reincarnated Setsuyou didn't remember anything and rejected Unhi. After several tries of getting her memories back, it didn't result well and the result got worse, as Setsuyou came to get part of her memories back and disliked Unhi. She then regained her spirit power and sort of rampaged against them.
To start off their back story, Han Unhi, the prince of the Sand Fox Kingdom was somehow thrown into a complicated situation and met Setsuyou. After that point, Han Unhi's power got stronger, to the point that he would finally be given the throne… but so long as he could get Setsuyou to be his bride. After getting rejected many times by Setsuyou and getting the situation worse due to a misunderstanding (that caused a huge problem to the reincarnated Setsuyou!), an incident happened that would cause them to fight together, and then Setsuyou finally agreed. However, as Unhi wanted to make the water orb (water is the weakness and natural enemy of the sand) a kingdom's treasure, the elders opposed and thus the two decided to spend their lives out of the kingdom.
I don't want to spoil much, but in the end, the two managed to rekindle their love and somehow got the elders' approval! The misunderstanding was also explained to the viewers (but not to the couple themselves, lol). The story gets better as you move through the episodes, although I must admit that I'm not very fond of this season compared to the other seasons.
In this season, a glimpse on Susu's real identity and her relationship to Yuechu was portrayed. That glimpse got me pumped to move on to the next seasons to dig their past relationship even further. Sadly, the Japanese version dubbed the appearance of Susu's real self (Honghong) wrong. In the original Chinese, Honghong called Yuechu as the "foolish Taoist", while the Japanese dub decided to make Honghong call Yuechu the same as how Susu addresses Yuechu, thus resulting in her saying "foolish monk-sama". Let me tell you that given the context, I don't believe Honghong should be addressing Yuechu with "-sama" suffix. So yeah, that's what the Japan version got wrong.
Second Season (Wangquan Fugui) : Wangquan Fugui
X

Qingtong
The story gets wayyy better here, as we move on to the second couple, who I believe are the secondary main characters here! Contrary to the first couple, the yaoguai/yokai is Qingtong, the female, while the male is a human. And as per usual, the reincarnated human lover doesn't remember their lover… and my heart breaks a little when Fugui rejected Qingtong. However, that didn't stop Qingtong from trying to be there for Fugui.
Short description of their back story (which is one of my favorite–oh wait, I think I love almost all of the couple's back story!). Fugui was born to a taoist family that exterminated yaoguai and was taught to eliminate every single yaoguai if he was ordered to. His mother was of Dongfang blood, that carried powerful spirit power (yes, the past Fugui was essentially past Yuechu's cousin). At first, he carried out the order and became sort of a killing machine without showing any mercy. But then, he encountered Qingtong and let her go as he wasn't ordered to kill her and that she was a weak yaoguai.
This sparked Qingtong's interest (or love?) to Fugui. As Fugui had never went out of his house except for exterminating yaoguai, Qingtong went out and waved the scenery into a picture scroll for Fugui, asking to be his eyes. As time passed by, Fugui got attached to Qingtong and would enjoy all the stories she got about the outside world. After that, Fugui became unable to bring himself to kill the yaoguai. To make things worse, their relationship soon was found out and Fugui was asked to kill Qingtong. Luckily, Fugui refused to kill her, and instead, he carried her in hopes he could go out of the house–only to find the other subordinates on stand by to kill him 🙁
However, Fugui was saved by none other than our main male protagonist, or his past incarnation, Dongfang Yuechu. So they didn't die here– (wait, but of course, if they died at that point, then they wouldn't have been able to make a Pledge of Love). As to how Fugui passed away in the past, I haven't found an answer to that yet–but bits of their past were seen in other season.
To be honest, I don't like the current reincarnation of Fugui but I absolutely adore the past Fugui! Their personalities are so different… And by the end of this season, I think the current Fugui has developed an interest to Qingtong, but their love story isn't yet resolved, as they will be recurring characters and their relationships should progress slowly just as Yuechu and Susu's.
This season has a very epic scene going!! And I realized that the scene got the epic vibe from the awesome Chinese song. Since when I watched its Japanese counterpart, the scene didn't turn out as epic as the Chinese version. For comparison of the said scene (the scene where Fugui carries Qingtong to break free of his house), go watch the Japanese version episode 10 vs the Chinese version episode 21 (or season 2 episode 8).
Here is the said scene in the original Chinese version, that perhaps is the key scene of the series that will interest many people :
Third Season (Yue Hong) : Dongfang Yuechu
X

Tushan Honghong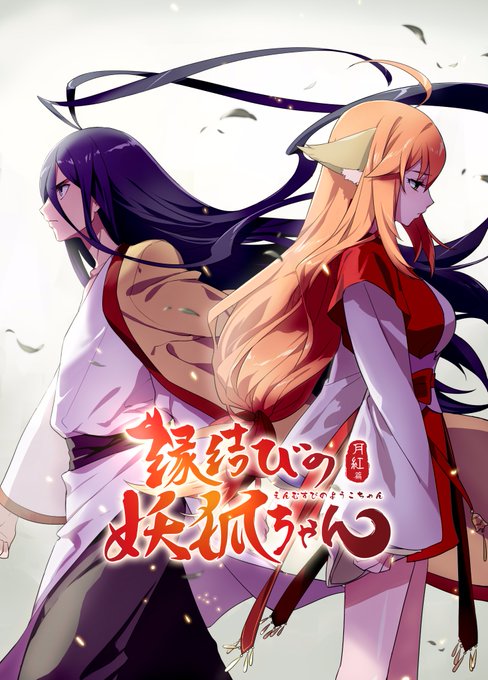 And this season finally uncovers the truth of Yuechu x Susu's past incarnation and their back story!! Nevertheless, I love both the opening song for the Japanese and Chinese version!
The story between the two of them is quite complicated. Honghong (Susu's real identity) met Yuechu when Yuechu was still a young boy. For Yuechu, Honghong saved him from people who want to take advantage of him. Afterwards, Yuechu also paid Honghong back by saving her and her other two sisters. From then on, Yuechu lived in Tushan and his infatuation towards Honghong was clear. But, due to a past incident, Honghong decided to focus on fixing the relationship between humans and yaoguai, and not even bothering to think about pursuing a romantic relationship. After being rejected and knowing this, Yuechu went out from Tushan and debuted as a strong taoist. He only had one thing in mind : to help Honghong realize her dream.
In the end, Yuechu would master a sacred technique called the Tear Void. The Black Fox (who are incidentally the Tushan Fox's enemies) wanted to own Tear Void and hunted Yuechu. In a showdown between Yuechu & Honghong vs The Black Fox, Yuechu was severely injured and then Honghong decided to make the plea to the Tree of Pledge and made half of the Tear Void as their promised item. This caused the Black Fox to be unable to kill Honghong as she was aiming to complete the Tear Void, and that won't happen should Honghong die.
As Honghong promised her memories and her power in exchange to make the vow, she then became Susu. And the tale of the two is still on-going in this series.
Have a look at the second season's opening with a video movie that totally fits the story so far up to the third season :
As for the third season's full opening that mainly illustrates the events in third season :
Honestly I think if you're reading far enough until season 3's gist, you should be able to decide whether or not to watch this series. And that is also why my review of 4th and 5th chapter will be shorter.
Fourth Season (Beishan Yaodi)
The ending song of this season is catchy for me XD
It tells the back story of A Kuan or Shi Kuan, who's a demon guarding the princess of the country that enslaved yaoguai with some kind of a magical tool. Their backstory was tragic, and I almost shed a tear during their back story… Some said that this couple's story was a filler, but heck, it's good so it's no problem X"D
This season is so short, so I don't think I can talk much of their back story here since it'd essentially spoil the whole season. But I really recommend this season's back story.
And as for why the Japanese version decided to end their adaptation with this season (I hope they will have more in the future, though), I can totally understand. The last episode of this season was quite epic, suitable for an ending.
Here is the ending scene and the only Japanese dub clip I'm including in this review!
Fifth Season (Qian Yan)
At first, I totally have no clue on what this season will be about. The first episode didn't help much and I was wondering where was the main couple this season XD But after getting to know them, I become intrigued to what their back story was.
If anything, this season focuses to tell us more about the enemies, the Black Foxes. The couple's story in this season was quite… sad, in my opinion. Like how the boy was sort of being tricked and manipulated by the Black Fox, and how that caused them to forget each other completely… The girl was something else, though! I totally love her, she is badass! Especially when she cleverly tricked the boy to say the pledge even without the boy knowing XD Due to complicated reasons, they can never be together in their past's lifetime.
Okay, sorry for being so vague here. But I don't know how exactly I should retell the story… If anything, I think you'd better watch it yourself! Here is the opening video of the fifth season :
Sixth Season (Nan Guo)
I haven't watched any single episode of this season but I think I've caught a little bit of spoiler from watching the opening video. Like I said before, I wanna wait until there are more episodes to this season (if not when the season is complete), as viewing the opening alone is enough to intrigue my curiosity. I just hope this season's conflicts will be resolved well, and that it won't have a harem end as I believe it would defeat the whole premise that this show is selling…?
However, I can say with certainty that I like the changes made in this season, like Susu's hair color. Also, I like the opening video.
And that's the end of my review. In the end, while I say that this is a
recommended series

in my opinion, since people's preferences vary, it's

up to you to decide

whether you're going to try the series or not.
Hopefully my review will give you a feedback on your decision.
I apologize in advance if this review contains any mistake, be it in the term of the items or places in the series, or any grammatical mistake. Thanks for reading and have a nice day ^^